1 DAY PRIVATE SURF 4X4 TROOPY TOUR
FROM
Adventure beyond Byron Bay with an epic Troopy Tour with you and your crew. Uncover the delights of the beautiful and less known Southern beaches of the Northern Rivers with some 4×4 beach cruising, an awesome private surf lesson and tour of the local Hinterland highlights.
Price based on per person for a group of 6 people
Includes Private Surf Lesson, 4×4 Beach Session, Local Tour Guide And More
SURF LESSONS DETAIL
TOUR SUMMARY
Immerse yourself in the true blue tradition that is the Aussie surf check. More than just a surf lesson, you'll be acquainted with the art of scouring the local breaks 4X4 style. Picking out the best spot of the day is a right of passage for most surfers and can often be as much fun as the surf session itself - top it off with a local tour of the hinterland secrets of our wonderful Byron region. You and your crew will be stoked.
No matter what, your day adventure will be packed full of epic fun - starting in your new rig on a muddy 4X4 session. Followed by a private and personalised surf lesson - our qualified and local Mojosurf Guide will teach you the ins and outs of surfing with ocean safety, surfing techniques, warm-up and time in the water. We'll have you gliding along a wave in no time. You'll finish the day with light refreshments followed by a Hinterland scenic tour home. You beauty.
Go on a solo mission and take advantage of the one on one surf instruction, or bring the posse along with 1 - 6 spaces available. Whether you're a family, backpacker or girl gang - you're guaranteed an awesome experience.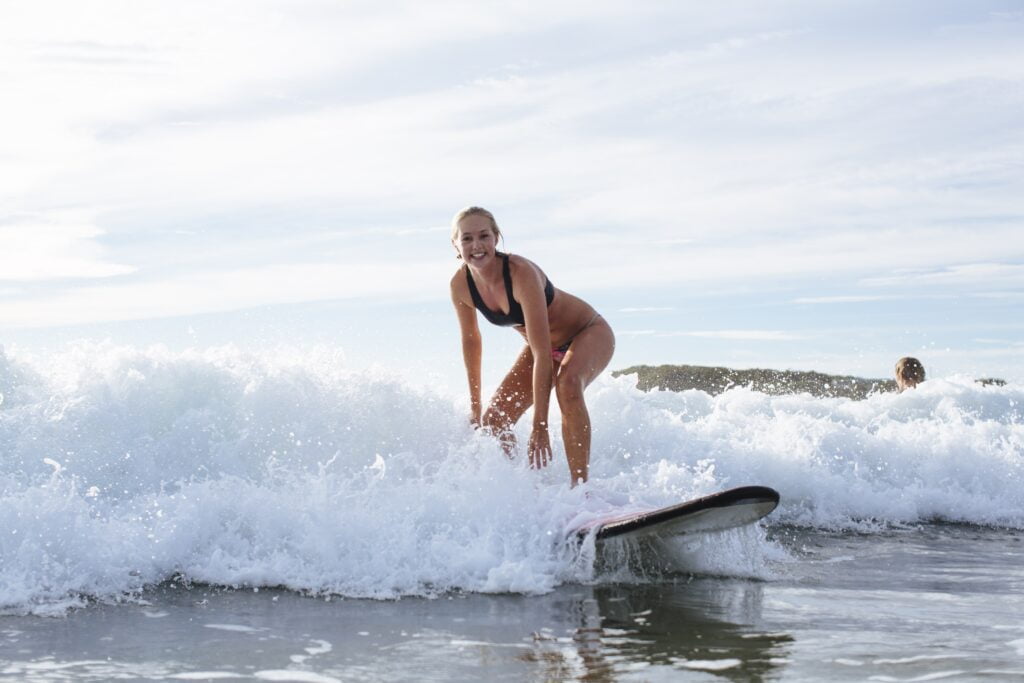 Q:
Is this tour family friendly?
It sure is! It's the perfect adventure for the family. Here is a group pic of our recent family adventure of one of our most recent Mojosurf Troopy Tour adventures. Thanks for the pic Cindy!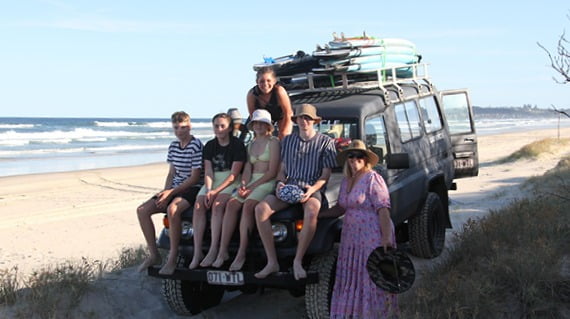 Q:
What do I need to bring?
A bottle of water
Swimsuit and/or boardshorts
Beach towel
Hat and sunscreen
Camera / smartphone
Q:
Can we have a group of less than 6 people?
Yes, but the price for the vehicle is the same.
Q:
Do you have flexible booking options?
Yes, the date can be changed for free up to 48 hours before travel. If your booking is within 48 hours a $55 admin fee will be charged.
Q:
I can't swim, can I still surf?
You are supervised at all times but you do need to be able to swim to participate in surfing.
Pick up and Day Preparation Let's get this party started
It all begins with your pick up, and if you're not excited you should be because a decked out Troopy with your name on it will be rolling in. Our Mojo Legend surf guide will have already assessed the surf and weather conditions for the day and have the target locked and loaded. First stop, 4X4 adventure in the mud.
Private Surf Lesson and Surf Fitness Locked and loaded - it's time to get salty
After scouring the sands of 7 Mile Beach or Mojo Legend surf guide would have already assessed the conditions and decided where your private lesson will be located. You'll begin your surf strike mission at Lennox Head, Flat Rock or The Rivermouth.
Starting the lesson with surf and ocean safety, a warm-up and 101 on surfing before getting amongst it. Our legendary guides will be on hand to advise, teach, and guide you throughout your surf lesson. You can also have the magic of your lesson captured for your Insta profile as an optional extra! Oh, and if you're up for it, we'll have a surf beach fitness session.
Picnic and Byron Hinterland Scenic Tour Put your feet up and take in the scenery
Here you'll be able to put your feet up and enjoy an optional sushi picnic lunch and of course, take in the view.
As they say, always take the scenic route. You'll finish your day adventure on a Byron Hinterland scenic drive through some of the most magical and hidden spots of the area. Gorgeous, green rolling hills, fertile farmlands and incredible views – it offers a scenic and cultural contrast to Byron's beach lifestyle.
Feeling salty and happy we'll drop you back to your drop off location.
Reviewed on
2 February 2021
Learning to surf in Byron Bay & Beyond
Mojo Surf consistently hold their surf lessons in epic locations without the crazy crowds
Reviewed on
18 February 2021
Could not be happier with our experience on the half day tour. We had 5 teenagers who all got up on their boards and caught a few waves each. Wazza was super patient and a great guide for the day. We will definitely be back next time we're in the area.